Alumnus Says Thanks with Annuities, Internships, and by Honoring Vets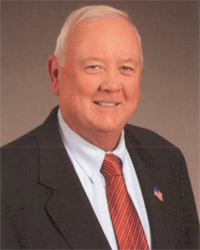 William J. Burke, Sr., FCRH '65, LAW '68—who was honored recently for creating a series of charitable gift annuities at Fordham and who launched the project that resulted in a Vietnam War memorial being added to University Church last spring—was planning to go into the Navy after high school and then follow in the footsteps of his father, a New York City police officer who never took a sick day in 40 years. But Burke's mother, who had suggested that he might want to go to college rather than directly into the service, had chatted with their summer mail carrier, who coincidentally had the same last name and was a student at Fordham.
"I was cutting the lawn one day and this guy came by and said his name was Pat Burke and he had talked to my mom and he was up at Fordham," Burke related. "He asked if I wanted to take a ride to see the school. So I went—and I fell in love with the place!"
The undergraduate years
Burke came home from that ride and sat down with his dad, an immigrant from Ireland with a grammar school education who rose to become a lieutenant in the police department and who had never taken a sick day in his long career.
"He said, 'Well, since you're going to have to pay for it, you'd better figure out a way to do it,'" Burke recalled.
Burke helped finance his education by working as Fordham's assistant sports information director and joined the successful student campaign to bring back football, which Fordham had dropped in 1954 after having a team since 1882. They got the rugby coach to lead the football team that first year as a club sport; in 1970 it was elevated back to full status. After years of ups and downs, Burke said he is elated with the Rams' stellar record this year.
During his junior year Burke was offered the job as the sports information director—succeeding his mentor, Pat Burke. He also served as class treasurer and for two years was a member of the Pershing Rifles ROTC unit, many of whom he still counts as lifelong friends.
On to law school
Burke's plan for after graduation was to attend Columbia University's esteemed graduate school of journalism, but one day during his senior year two Fordham alumni took him out to dinner to thank him for all his work for the school.
"I was going to be a sportswriter; I was not thinking about law school," Burke said. "But they both were young attorneys who had graduated from Fordham law school and were doing well. I was impressed with them."
Burke went to see the late Rev. George J. McMahon, S.J., known as "Father Fordham" for his 40 years as a dean, vice president, and chaplain at the school. Father McMahon asked Burke if he had done anything at all to get into law school. Fortunately he had, almost by happenstance.
"I had taken the law school exam as practice for the graduate school exam," Burke said. "I didn't have time or money to take review courses, but my Irish logic was how different can they be?"
Burke did well on both exams; and just as he had only applied to one undergraduate school, he only applied to one law school—and chose Fordham over Columbia and a career as a sportswriter. Father McMahon connected him with the financial aid office for assistance. Burke financed the rest of law school with such jobs as night doorman, private investigator, and working at the 1964 New York World's Fair.
Career success
Upon graduation and passing the bar exam, Burke went to work on Wall Street as an investigative attorney. That launched a career that included 25 years with Merrill Lynch as an attorney and real estate manager—and eventually led him into finance and his current position as Managing Director–Investments at the Park Avenue, New York City office of Wells Fargo Advisors, LLC. He is a non-practicing attorney.
Honoring Vietnam vets
To honor classmates and other alumni, Burke initiated a decade-long project to track down the name of every Fordham student who served in Vietnam—a mission completed in April when the names of the 23 alumni who lost their lives in that conflict were inscribed on a memorial wall in the narthex at University Church. The ceremony was led by college president Joseph M. McShane, S.J., and also included a celebration of the church's new organ.
"This memorial is a reminder of how lucky we are in this country and a true acknowledgement that Fordham remembers its heroes," Burke said at the time. "God bless them."
Connecting alumni
Burke was president of the Fordham alumni New Jersey chapter for 15 years and now is president of the alumni chapter for southwest Florida, where he and his wife Theresa have a second home. He has chaired class reunions for both the law school and the college.
"I talk to alumni all the time, and they say they wish they had stayed in touch with their friends," Burke said. "I say don't forget Fordham; stay in contact with those really good friends you made. And take that first step: If you haven't heard from Charlie, then call Charlie!" Burke maintains an extensive list of contacts and actually helps alumni find their long-lost friends.
Fordham in the family
Burke has run an internship program for Fordham students since 1982, exposing them to the world of Wall Street; several employees at his office are former interns, including his son Bill, who graduated from the business school. His youngest daughter Erin has an undergraduate degree and a law degree from Fordham and is the assistant dean for undergraduate research and director of pre-law advising. Burke invited her to go with him to The 1841 Society luncheon where those making planned gifts were to be honored. Burke laughingly related what happened: "They were honoring everybody and they said to me, 'You've made more gifts than anyone.' And my daughter spoke right up and said, 'Not in total dollar amounts, just in the number of gifts.'"
Charitable gifts
Burke's gifts include a major contribution for his 25th reunion and a series of charitable gift annuities. As an investment advisor, Burke says that gift annuities may be a smart way to give.
"If I have a stock that really appreciates, I have to pay taxes on it if I sell, so I donate it instead," Burke said. "I set it up so my wife has an annuity income coming in for the rest of her life—and then Fordham gets the money.
"Give what you can afford, what you don't need," he urged other alumni. "Think it through, with taxes and everything. Pay your fair share of taxes and then give to charity."
Why he loves Fordham
Burke said that besides making lifelong friends, his love of Fordham is because of its diversity and because of the way professors teach and treat their students.
"I had so many good professors—and they really cared," said Burke, who mentioned in particular law professor Constantine "Gus" Katsoris, who also taught Burke's daughter. "That is one of the things I took away, from both undergraduate and law school: Fordham cares. And I really like that Fordham is a melting pot school. I'm first-generation here. I want to give back and really help these kids."
Wells Fargo Advisors is not a legal or tax advisor.
Back
© Pentera, Inc. Planned giving content. All rights reserved.