Feerick Center Be Praised! So Sayeth the Court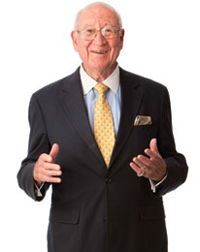 Fordham Law's many centers and institutes are distinguished by their innovative and pathbreaking work, whether they are advancing scholarship on critical legal issues, providing hands-on training for future lawyers, or offering urgently needed legal advice to indigent clients. One of the centers that is making great strides in tackling the discrete problems of urban poverty is the Feerick Center for Social Justice. And one of the Feerick Center's greatest supporters is Hon. John F. Keenan '54, who sits on the U.S. District Court for the Southern District of New York.
Judge Keenan made a generous bequest pledge to the Feerick Center because he believes the work of the Center is important for Fordham Law students and for society.
"The Feerick Center trains the students in practical matters and addresses one of the great problems facing our society—that is, urban poverty and its effects on humans," says Keenan. "I decided to leave a bequest to the Center because of this important work and because of my great admiration for John Feerick, who is the epitome of all that a lawyer should be."
Not many people would question Judge Keenan's praise of former dean Feerick, nor would many argue against the assertion that Judge Keenan himself is the epitome of all that a judge should be. Indeed, his commitment to serving the public, his staunch dedication to ethical principles, and his profound understanding of the judge's craft earned him in 2009 the Fordham-Stein Prize, often referred to as the "Pulitzer Prize of the legal profession."
Judge Keenan credits the Law School for assisting him throughout his distinguished career path: "Fordham supplied me with a great education, and it has been a constant source of help to me in my legal career."
When asked to explain why planned giving is important to the future of Fordham Law, Judge Keenan is as honest and straightforward as he is in court: "Planned gifts are important because they permit the Law School to budget for the future."
Fordham's future is looking very bright due to the support of Judge Keenan and others in the 1905 Society.
Back
© Pentera, Inc. Planned giving content. All rights reserved.