Football Captain's Thoughtful Estate Plan Includes IRA Gift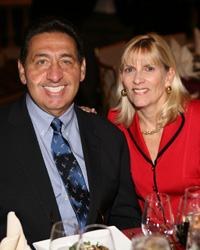 Fordham and its football program set the foundation for the successful career of John M. Zizzo Esq., FCRH '69, and now the retired real estate attorney and member of the university board of trustees is giving back with a significant gift from his IRA.
"I want to leave something to Fordham when I pass, and I wanted to do it in a way that could increase in value during my lifetime, and I also wanted to do it in a way that would leave my estate uncomplicated," Zizzo explained. "An IRA gift makes it simple for estate planning purposes. I don't know why people don't do it more often."
The gift, which is expected to be at least half a million dollars but could grow to be considerably more, also provides significant tax benefits.
"If I left the money in the IRA—let's say it was $500,000—and my wife took out $500,000, she would have to pay the tax on it," Zizzo said. "This way Fordham gets the money directly and there is no tax paid on it."
Zizzo said he consulted with his estate attorney and with Fordham in designing the gift—and particularly wanted to bring peace of mind to his wife, Thalia Thrall, and their two children by constructing a thoughtful but uncomplicated estate plan.
Zizzo earned a bachelor's degree in economics at Fordham and went on to Columbia Law School. He played defensive tackle and co-captained the Fordham club football team that finished first in the nation in 1968, two years before resuming varsity sport status. His gift will support the football program; for many years he has been donating to football and basketball and helping the athletic development office raise money.
"Athletics build a type of character that's very hard to duplicate outside of athletics," Zizzo commented. "It promotes teamwork and a sense of responsibility—not only to yourself but to your team. More importantly, football is one of the true faces of Fordham University, like academics, like the way we serve the community, like the Jesuit tradition." Zizzo attended a Jesuit high school in Brooklyn, where he grew up, and knew he wanted to attend a Jesuit college.
"I'm a Jesuit guy; I love the Jesuits," Zizzo said. "I love the mission, the intellectual pursuits, the whole Jesuit value system. The Jesuit creed is to develop men and women for others, and I think that's the way you should act." The Jesuit way and his Fordham education stood him in good stead in graduate school and in his career.
"Fordham gave me an intellectual and educational base to create a career through the law," Zizzo said. "The basic education I received at Fordham allowed me to get into Columbia and allowed me—with the Jesuit way of thinking—to analyze and implement the law over my career.
"It also continued the education I had in my early life, both from my family and schools: this concept of doing things in a manner in which you are a part of the world, and whatever you do you have to understand that it's going to affect the rest of the world. Fordham has been an integral part in giving me that perspective on life."
Zizzo particularly complimented the way the university has always served the underprivileged in New York City.
"Fordham has had a great tradition of helping inner-city residents—the people who inhabit New York City—to get an education they would not have been able to get," he said. "Fordham has a high percentage of representation from poorer, inner-city kids, and always has had that reputation."
After law school, Zizzo went on to become a partner in the prestigious New York firm Cadwalader, Wickersham & Taft, which was founded shortly after the American Revolution, in 1792. During his career he was repeatedly listed as one of the nation's top real estate attorneys by publications such as The Legal 500, which wrote that he "demonstrates strong industry knowledge and an ability to evaluate—and provide a strategic perspective—even in the most complex of situations."
Zizzo has brought that strategic perspective to the Fordham board of trustees, where he is in his second year of a four-year term and serves as vice chair of the athletics and student affairs committee. He said he has found management of a university to be surprisingly complicated. "It's very eye opening, seeing all the challenges an educational institution has to face: the physical plant, students, athletics, health issues, faculty, curriculum, funding, development," Zizzo said. "Just the physical plant alone: three campuses, all these buildings. It is a huge enterprise. That's what has really surprised me, only because I didn't really ever think about it. That and the need to deal with and foster all of the different constituents of a university: faculty, administrators, students, parents, alumni. To suit everybody's needs is difficult and complex."
And expensive. And that's where alumni and other supporters can provide a huge service. Prior to the IRA gift, Zizzo and his wife were already members of the President's Club for those whose gifts total between $50,000 and $100,000. The IRA gift qualifies them for The 1841 Society for those making planned gifts.
"Giving is a way to maintain the tradition and the high esteem in which Fordham is held by the rest of the world, to keep it at its current level and keep it moving on an upward trajectory," Zizzo said, adding that alumni "should give so they always have the feeling that they come from an institution of very high esteem, so that they will always remain a part of the experience of this excellent and high-quality institution."
Back
© Pentera, Inc. Planned giving content. All rights reserved.