Alumnus Honors His Mother and Late Wife with Endowed Scholarships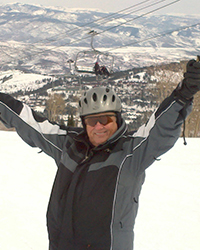 Joseph G. Sponholz, FCRH '66, who will become a Golden Ram at his 50th Jubilee in June, has established two endowed scholarships to help students receive the liberal arts education which shaped his life.
As a student at Marist Hall Prep, Joseph G. Sponholz, FCRH '66, developed a love for French language and literature. When he told his parents that he wanted to pursue a college degree at Fordham, his father suggested that he get a job and attend a public college because they did not have the resources to pay for a private school.
But Sponholz didn't abandon his dream of a Fordham education and graduated with honors in French language and literature. He worked at a drugstore to earn his tuition and will never forget the kindness of a Whitestone neighbor and Fordham employee who would drive him to the Bronx for classes. Sponholz had a successful career in banking, retiring as vice chairman from Chase Manhattan Bank. Now a New York City resident with his wife Nancy Bronstein, they enjoy traveling and spending time with their combined families and six grandchildren on Long Island and in Park City, Utah.
Sponholz is a committed donor to Fordham, giving back to students in need of financial aid. He is a member of the Archbishop Hughes Society, a group of extraordinary donors whose lifetime contributions to Fordham total $1 million or more. He has established two endowed scholarship funds: one in 1997 in honor of his mother who encouraged him to pursue his dream of attending Fordham, and the other in 2007 in honor of his late wife. "Fordham was a life-changing experience for me and my family," he says. Sponholz met his first wife at Fordham, and their son, Joseph, is a graduate of Fordham Law School.
Sponholz was the first in his family to attend college, as was his first wife, Jane K. Sponholz, PhD, who enrolled at Thomas More College. Jane was a professor at Grand Valley State University when she died at the age of 60, after raising two children and having a successful career at a time when women struggled to balance family life with a professional life—a challenge that continues to this day. The endowed scholarship created in her name supports women who demonstrate academic merit and financial need.
Sponholz's mother, Kathleen O'Neill Sponholz, was a devout Catholic who died prematurely at the age of 50. "Although she never obtained a college education herself, she was the one who convinced my father to support my education at Fordham," Joe says. He remembers his mother avidly asking him about what he was learning in class and how proud she was to see him become a Fordham graduate. The endowed scholarship created in her name supports students who demonstrate academic merit and financial need.
Fordham University is deeply grateful to Joseph G. Sponholz for his leadership and generosity. He truly exemplifies a man for others through his outreach and support to his younger Fordham sisters and brothers.
Back
© Pentera, Inc. Planned giving content. All rights reserved.