Faithful Listener Karen Asconi Makes Estate-Plan Gifts to Support WFUV Because It Is "Like a Best Friend"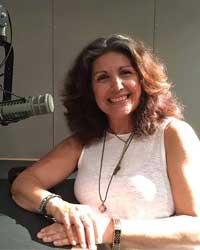 After 25 years as a high school science and performing arts teacher in New Jersey, Karen Asconi decided to take a leap of faith and make meaningful changes in her life. She retired from teaching and moved to the Upper West Side, where she could soak up the sounds and the bustle of the city. She became a yoga practitioner. She entered into a faithful study of meditation. She also embarked upon a new career; she took her acting background and translated it into voiceover work.
During this time of reflection and transformation, Karen marvels: "WFUV supports me like a best friend." As a result, Karen decided to include WFUV in her will and to make the station the beneficiary of a life insurance policy and gift annuity. To that end, Karen shares: "It's the least I can do to try and spread the word where I can and to share what I can where it can serve a greater good."
A faithful FUV listener and member for 12 years, Karen has enjoyed the songs Paul Cavalconte expertly pairs with smart, sophisticated commentary on Cavalcade. Karen explains: "Music has always been my soul's compass. Finding WFUV years ago and hearing familiar voices at the controls made it feel like a completely new, free-flowing home. The coolest thing is that I get to hear the best of the soundtrack of my (our) youth AND stay present with the best of today's artists every time I tune in. Even better ... the way Paul [Cavalconte] and Jeremy [Rainer, Paul's engineer] masterfully weave each Cavalcade with intention, joy, and love that so clearly flows during those few hours, amplifies the cool, fills my heart, and keeps my ears on their toes! And Paul cracks me up too. Such a gift! And keep the music playing."
Back
© Pentera, Inc. Planned giving content. All rights reserved.