Alumnus Endows Scholarship Inspired by Jesuit Values and Lifetime of Service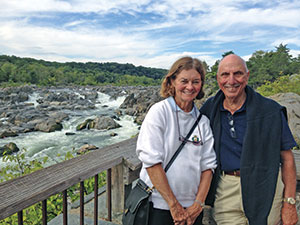 Tom and Eileen Lamberti on vacation in Maine
Thomas M. Lamberti, FCRH '52, the only son of Italian-American immigrants, is a first-generation college graduate and a proponent of hard work, education, and Jesuit values. Tom's father was a talented hairdresser who owned a thriving salon in Manhattan. Rose, his mother, was the business manager who ensured the salon's financial success.
Witness to his parents' determination and desire that he receive an education, Tom entered Fordham commuting to the Bronx from his home in Queens. In his third year, Tom joined the ROTC. After graduation, Tom was called into service in the United States Air Force, serving as a First Lieutenant in the United States and North Africa during the Korean War.
When he returned home, he continued his education at Harvard Law School—specializing in labor and employment law. Throughout his long and distinguished career, Tom represented clients in health care, manufacturing, and service industries as well as local governments.
Amid a busy and successful career, Tom never abandoned the Jesuit values of service, mentorship, and development of the whole person. He was a Village of Garden City trustee from 2005 to 2009, was honored by the Garden City Chamber of Commerce with the Citizen of the Year Award, and received the Ellis Island Medal of Honor for distinguished service as a son of Italian-American immigrants.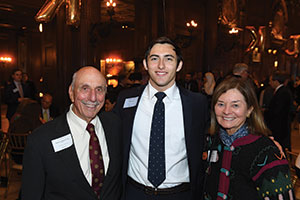 Tom and Eileen Lamberti with scholarship recipient, Kraig Puccia, FCRH '21
This year Tom and Eileen, his wife of thirty-nine years, will be honored by The Interfaith Nutrition Network for their dedication and service to hungry and homeless Long Islanders. Similarly devoted to education and service, Eileen was an elementary school teacher when she met her husband.
Tom is a committed donor to education, giving back to students in need of financial aid. He generously donates to his alma maters, Xavier High School in New York, Fordham University, and Harvard Law School as well as to the Inner-City Scholarship Fund of the Archdiocese of New York.
At Fordham he established the Thomas M. Lamberti Endowed Scholarship Fund, which provides financial support to full-time Fordham College Rose Hill students who attended a Jesuit high school. Tom is a member of the Archbishop Hughes Society, a group of extraordinary donors whose lifetime contributions to Fordham total $1 million or more.
Throughout the decades, Tom and Eileen have found a variety of ways to donate. Sometimes giving cash, other times appreciated securities, and even creating charitable gift annuities to supplement their retirement needs. Fordham University is deeply grateful to Tom and Eileen for their leadership, generosity, and untiring commitment to Jesuit values.
Back
© Pentera, Inc. Planned giving content. All rights reserved.