Alumnus Creates an Endowed Chair in Cosmology with an Estate Gift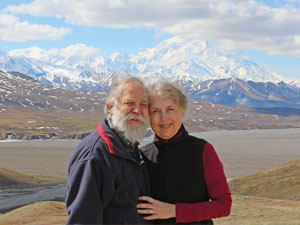 Dennis Marks, FCRH '66, was a physics major who had wanted to be an astrophysicist for as long as he could remember. His wife Patricia, a 1965 graduate of Douglass College, part of Rutgers University, had wanted to be a writer ever since playing with a portable typewriter in her bedroom as a girl. They married in 1968, creating a kind of union of the arts and sciences. They pursued their ambitions together, earning doctorates in astronomy and English and later securing faculty positions at Georgia's Valdosta State University, where they are now professors emeritus.
Strong believers in liberal arts education, Dennis and Patricia recently established an endowed chair in cosmology at Fordham through a bequest in their wills supporting the University's $350 million fundraising campaign, Cura Personalis | For Every Fordham Student, which seeks to enhance the entire student experience.
As the science of the origins, structure, and nature of the universe, cosmology is a field that involves the sciences but also questions of philosophy. This mix of disciplines echoes Dennis' fond Fordham memories of "being in class and hearing resonances of ideas in other disciplines, so that the disciplines were each like a piece of a single cloth," he said. Because of Fordham's Sputnik-era accelerated physics program, he and the other physics majors were block scheduled, "so you had a theology professor trying to prove to 28 physics majors that you can violate the laws of nature and have miracles. It was a challenge for the faculty, as well as for the students, and it was a wonderful experience."
In another class, the instructor—a priest—touched on a novel combination of disciplines, quantum theology, by finding that different religions have a common theme of "no separation between the other and the self," he said. "To some of us, it really sounded like an application of quantum mechanics in which there's no separation between here and there. And so quantum theology builds a theology on the interconnectedness of the one and the other."
"I really think that the boundaries between disciplines are just for administrative purposes," he said. "There really is, in my mind, only one academic enterprise."
Back
© Pentera, Inc. Planned giving content. All rights reserved.